During the 2020-21 academic year, I will be serving as the inaugural Bonham Centre for Sexual Diversity Studies Artist-in-Residence at the University of Toronto. Over the course of this residency, I will be researching queer curatorial strategies as I publicly work towards realizing an upcoming exhibition of contemporary Canadian LGBTQ2S+ photography at Gallery TPW.
Documents, articles, notes, questions and reflections will be shared here over the next nine months.
First on the reading list: "How have queer issues, queer curators, and queer exhibitions at one and the same time both shaken the foundations of traditional curatorial practice, and found their potential for intervention papered over or silenced? How can queer desires continue to force the museum to evolve? What does queer change in the museum look like? This issue is an attempt to foster a dialogue about queer curating in a transnational frame."
Full before I could register. A course from the Node Center for Curatorial Studies, taught by Sylvia Sadzinski: "This course gives an introduction to queer theories, queer art practices and to ongoing conversations about forms and methods of queer exhibition-making. Queer curating not only relates to a better representation of the diversity of gender and sexuality in collections and exhibitions, it also addresses how this can be achieved. Queer curating challenges the museum and exhibition as normalizing entities, where meanings are created and binary and heteronormative structures are reinforced."
"Is it possible to identify a mode of curatorial practice that possesses a specifically queer orientation?"
Not specifically queer, nor specifically feminist, but undoubtedly both also. Zoom link here.
Performing Diverse Sexualities: Queer Curating or Curatorial Strategies of the Schwules Museum*, a thesis by Liang-Kai Yu which proposes a theoretical framework of queer curating based on Judith Butler's performativity theory and aims to rethink ways of exhibition display.
Queer Exhibitions/Queer Curating, A Cross-Cultural Symposium held May 19 and 20, 2017 at Museum Folkwang in Essen, Germany. This jumped out at me – "Even today, queer exhibitions are quite rare—there have been a total of under 50 across the world—and in many nations they are still contentious."
Tyler School of Art and Architecture's Queer Materials Lab – I love this model of a physical queer space for queer research (lucky me, I got to visit last year). They "provide a space, an archive, a workshop, a research site and an-ever evolving collection of materials through which queer, transgender, gender non-conforming and non-binary identifying people may examine and engage with the idea that materials can be 'queer' either through their location, their history, their tactile qualities or their maker."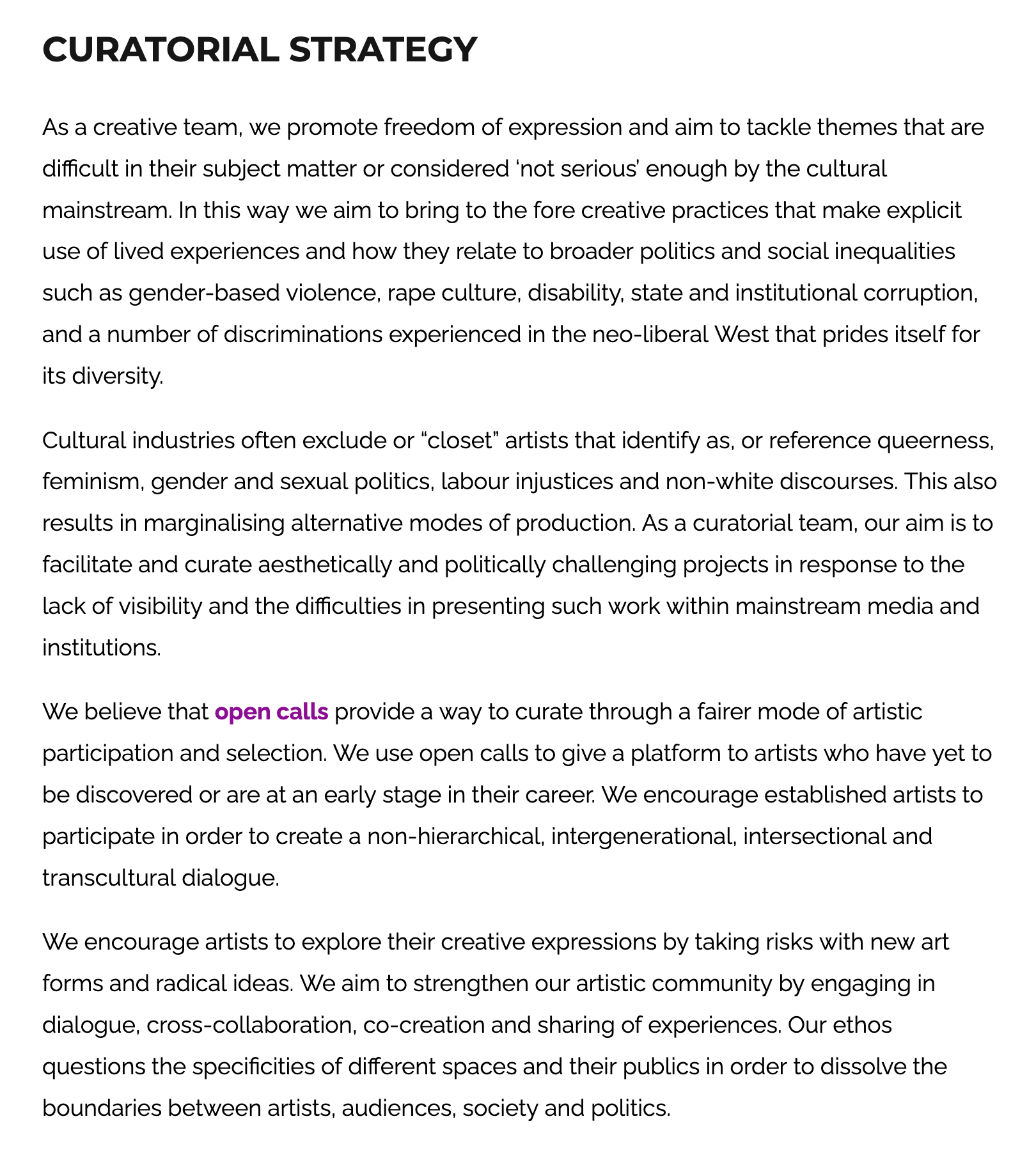 The curatorial strategy of CUNTemporary, a UK-based non-profit organisation that works with individuals and groups that explore feminist, queer and decolonial art practices and theories. Find out more about their work here.
Curating Queerness as an Activist Practice, a short essay by Claire Mead, posted on Curating the Contemporary (CtC).
As I continue to work on my exhibition of queer photography, Antwaun Sargent's words have arrived at just the right time: "Given this enduring reality, some queer artists dream in images, in defiance of the straight imagination. Their eyes desire narratives of longing and pleasure, free of trauma, with illuminations of relief. Through their pictures, other ways of existing are possible."
From Aperture, issue 241, "Utopia," Winter 2020, under the title "The Future Will See You Now."
Chris Vargas
i

s the Executive Director of the Museum of Trans Hirstory and Art (MOTHA), and here they present "a preliminary and by no means complete set of demands for museums to begin the process of dismantling white cisgender supremacy and structural injustice, and to honor the trans+ BIPOC art, people, and culture to which they have always been indebted."
Queering the Collection is the culminating publication based on the Queering the Collection program, a collaboration between GenderFail and the International Center of Photography Library. Queering the Collection was a 2018 series of exhibitions, programs and events that presented a variety of curatorial perspectives on contemporary investigations of gender through archives, libraries, and collections.
Museum Queeries is an interdisciplinary research project based at the University of Winnipeg with collaborators from across Turtle Island that prioritizes Two-Spirit, lesbian, gay, bisexual, transgender, transsexual, and queer (2S+LGBTTQ) contributions and interventions into museums and museum studies.
Their goals include developing interventions into current museum practices, new proposals for museum exhibits, and partnerships with artists, activists, museum professionals, and other scholars.
In Document Journal, critical writer Annabel Paulsen asks of art institutions, "

why is queerness historically associated with pain?"
For his doctoral thesis, artist Matt Smith explores how queer culture and theory can be communicated through crafted objects and curated exhibitions, with his research informed by four exhibitions where he was both the artist and curator. The first was "Queering the Museum at Birmingham Museum and Art Gallery," and a summary document of that exhibition can also be accessed here.
Drawing on the work of Tammy Rae Carland, Ulrike Mueller, Kent Monkman, and others, Ann Cvetkovich's November 2019 talk focused on how artists use creative and queer approaches to archives that are simultaneously critical and transformative. Ann Cvetkovich is Director of the Pauline Jewett Institute of Women's and Gender Studies at Carleton University, and she is currently writing a book about the state of LGBTQ archives and their creative use by artists to produce counterarchives and interventions in public history.
Curator and writer Binghao Wong reflects on the question, "As a queer-identified curator, how do I care for, work with, and remain accountable to queer artists, given that our bodies are all irrevocably outlawed?"
As part of this

residency, I'm so pleased to be hosting this upcoming conversation on the politics and practices of queer curating in Canada. I'll be talking with guest speakers Blair Fornwald, Vanessa Kwan, Sean Lee, and Adrienne Huard and Lindsay Nixon, and you can register here.